Milan Games Week 2023, Reply Totem is ready!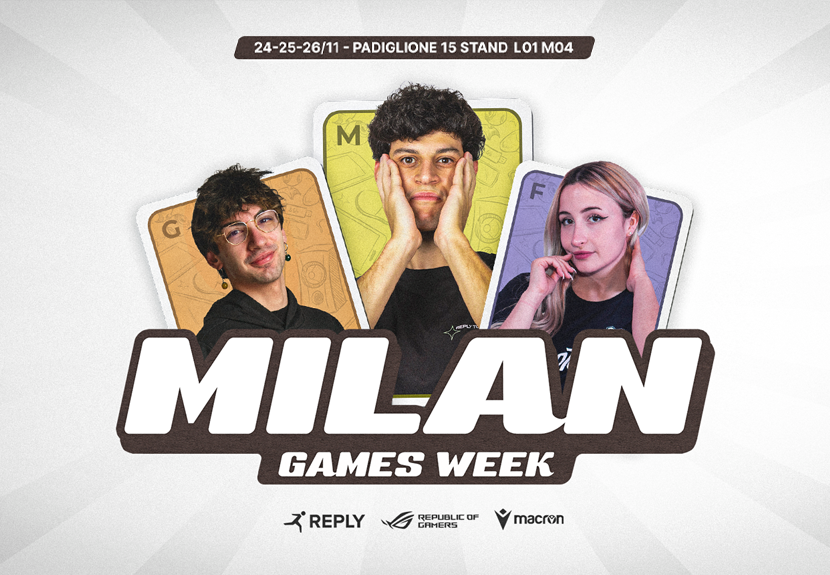 From the 24th to the 26th of November, the black-and-green team will officially take part in its third consecutive edition of the Milan Games Week, showing up once again with its own exclusive stand inside the fair.
This year's stand will be the big difference compared to past editions; in addition to Reply, Asus ROG will be the other absolute protagonist in this space. Fresh from partnership renewal with Totem, it will be branding the space of stand L01 M04 (pavilion 15), featuring numerous gaming stations of different nature: from the ROG Ally, the latest generation portable gaming console, to notebooks and regular PC gaming stations, culminating in the presentation of a very high level Evangelion-themed custom build.
The team will offer a plethora of activities at the booth together with its content creators. Gladiator, Federicas, Sparx and BBlade are just some of the names that will take part in this event, meeting their fans in an environment that celebrates important community values such as passion for their hobbies and inclusiveness. Milan Games Week will also offer multiple live events for all its attendees of which Totem will star as one of the protagonists: some examples include the final award ceremony of the Italian Esports Awards (4 black-and-green nominations), Moonryde's God Wager with our BBlade and the Italian Rocket Championship finals. To top it all off there will also be the Brawl Stars World Cup Watch Party at the Reply Totem stand; Maury, Maru and Joker will in fact be very busy in Sweden to play for their second world title of this 2023 solar year, receiving all the remote support from the entire Totem Family and the MGW fans.
The date is therefore set on November 24th for a weekend fully dedicated to technology and gaming, don't miss it!
Fabio Cucciari, CEO and co-founder of Reply Totem, commented: "Third consecutive year for us at the Milan Games Week, an event that for our industry is very much an early Christmas. In just 3 days of the festival we will be able to experience all the essence of gaming and esports concentrated around us. So many events, the presence of our creators and our sponsors who join us in every adventure, but most importantly all the unique emotions offered by these types of festivals, like that of live meeting our fans who support us throughout the year. We will follow the adventures of our Brawl Stars boys at the World Cup from a distance, hoping that the warmth of the gathered community can be of support to them on Swedish soil. Special thanks certainly go to Reply and Asus ROG who helped us make the stand even more unique than usual with special stations on both PC and Mobile; hope you'll all enjoy this MGW!".